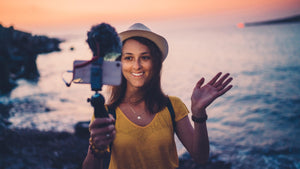 Become A Base Essentials Brand Ambassador
Do you share in our vision for pure living through genuine natural products that give back to the world around us? Do you align with our values of Purity, Being Human, Our Earth, Simplicity & Clarity? 
If so, let's chat! 
BEING A BRAND AMBASSADOR
12 months of premium quality products
Earn $$$ on sales 
Exclusive access 
Cross promotion of you to our audience through paid and organic channels 
Creative freedom to tell stories in your own unique way
BE EXCLUSIVE Be the first to hear, and help us launch new products by being part of our early access team
BE FEATURED Get dedicated posts and newsletters with your content and handle. We highlight an ambassador every month
EARN COMMISSION Use your own dedicated link and earn money whenever someone clicks through and makes a purchase. You get access to see how much you've earnt and will be in paid monthly instalments. 

BE REWARDED As we grow, we want you to grow with us. We'll run fun competitions and offer cash rewards for achieving goals such as content that achieves high engagement.
Who is a Base Essentials Ambassador?
Someone who authentically creates engaging content, naturally integrating our range of pure living products as they see fit. We love working with people who are passionate about health and wellbeing, care about the world we live in and creative individuals with a real following from all over the world.
How do I become an Ambassador?
It's easy! Contact us using the form below. 
We're always looking for Base Essential fans to work with, and our ambassador program is suited for anyone from a small to a large audience. We treat each ambassador individually, and will work with you to stay true to your tone and content, while integrating Base Essentials organically. We'll also sponsor and give visibility to our ambassador content through our Instagram, and Facebook advertising.
How do I earn money?
By signing up to the program, you'll be provided with a unique link that you can reference in your content. Anyone who clicks through your link and purchases will be attributed back to you, earning you 10% of the total sale generated. The more people who click your link and purchase, the more commission you'll make.
We also run fun competitions that have product and cash rewards for achieving goals like increasing followers, content that gets the most likes etc.